Well, the Sydney Skinny has been and gone for another year!
I swam in the fifth wave (I think) this year, which (totally accidentally) turned out to be the Body Image group.  It somehow seems appropriate given "me".  Anyway, it was, as with last year, a fun group of people who all stripped off on the beach and swam either 900, or 300 meters.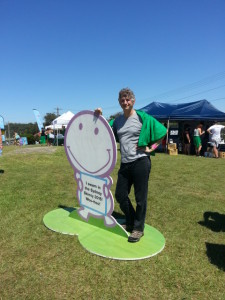 I found the swim a lot easier than last year, but it was still a lot harder than I expected.  There was a reasonable amount of chop and some bigger waves (of perhaps 50cms) from ferries or other boats.  My main problem was that I actually started to feel sea sick about one third of the way through!  I was trying to move with the waves, rather than bashing through them and it turned out to be a pretty sickening rythm.
So, next year I am thinking that I need to do more open water swimming in preparation.
Anyway, it was a fun experience yet again and great to see so many people getting out and enjoying the sunshine, the water, and the freedom of being nude!
John.