You have probably been hearing about artificial intelligence in the media recently. The company OpenAI in particular has been making a lot of waves with its ChatGPT artificial intelligence service. And honestly ChatGPT is absolutely astounding in what it can achieve.
So, being the person I am with an interest in technology and how it can help me I thought I'd have a look at ChatGPT and see what it might be able to do for me and my business as a male escort for women.
One of the favourite tests you can see people on Youtube doing with ChatGPT is asking it to give them suggestions for articles to write about a subject. Knowing virtually nothing about ChatGPT and how to drive it besides what I had seen other people do I thought I'd start with that. I wanted to write an article for this site today but wasn't feeling inspired by any of the ideas I've jotted down in the last couple of weeks.
So I asked ChatGPT: "Suggest some article subjects about female sexuality and male escorts".  This is what came back: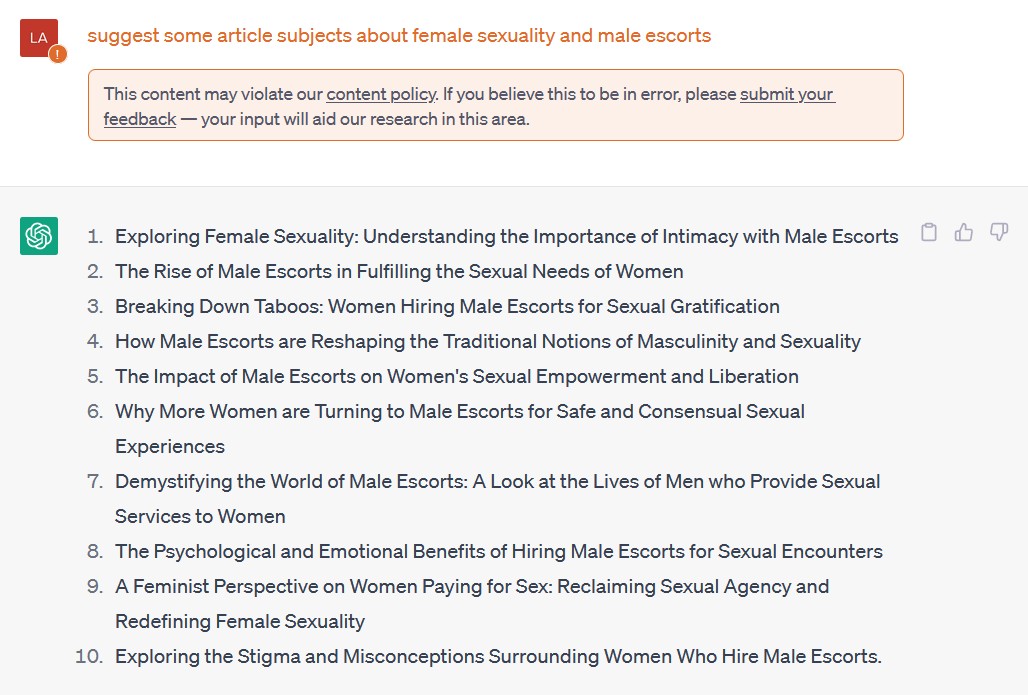 While all the suggestions were relatively "high-level" the topics that ChatGPT suggested were definitely on target. So well done ChatGPT.
However there is a problem. "This content may violate our content policy…"
Sigh. Here we go…
I dutifully followed the link provided to OpenAI's content policy and I find this:
"Disallowed usage of our models
We don't allow the use of our models for the following:"

Promoting sexual services. Yup. That's me banned then.
I haven't been involved in sex work advocacy for several years now, but this sort of thing reminds me that the fight for the rights of sex workers is far, far, FAR from over.
I first bumped into this kind of problem when making erotic films. Music is an important part of setting the mood in a film and several years ago there was a big boom in online royalty free music libraries (which ironically generative AI may yet kill). That's great because you can subscribe, download the music that suits your work, add it in and you are done, nothing more to pay. But not if you are making erotic content. That's *always* excluded in their terms of service. Last time I checked, none of the big royalty free music sites allowed use of their libraries in anything "adult" related. As a result there is only a quite small set of music that I can legally choose from when making a new film.
And of course OpenAI have done the same thing. Western (in particular US and Australian) prudishness is incredibly exclusionary and as stock or AI generated images and music become more and more prevalent, sex workers and our ability to create and promote our work becomes harder.
Now my business isn't about to fail because I can't use a song, or have AI generate article topics, but it's another barrier unfairly place in front of me and every other sex worker in the world. And it demonstrates that the fight for sex work rights – which ultimately translates into your right as a prospective, or actual purchaser of sex work services – is an ongoing battle.
There will always be people who openly and directly oppose us and our work, but the people and businesses who casually oppose us because they are too scared of what the loud people might say about them are just as big a problem and far more insidious.
John