There is a growing group of women who want to change the face of porn. Not to tear it down and censor it out of existence, but to rebuild it in a way that is better and that caters to the desires and sensibilities of women as well as men.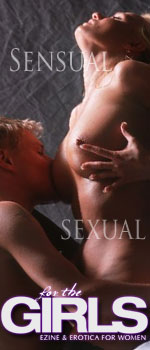 They use terms like "sex-positive" to define the style of erotica that appeals to the significant group of women who enjoy looking at erotic images and movies. The hallmarks of these people and their work are: subtlety, high production values (meaning professional quality direction and technical execution) and a balanced, inclusive view of what sex and erotica are and how they should be portrayed.
I think that it is a great development and I applaud the women who are driving it. Women like my favourite sex blogger: Ms Naughty.
Ms Naughty runs a blog, found here: http://www.msnaughty.com/blog/ that I enjoy reading and commenting on. If you are interested in the world of erotica aimed at women, then take a look at her blog. Read some intelligent commentary on and thoughts about the adult industry.
Ms Naughty also runs a number of adult websites that cater to women specifically, including: For The Girls, one of the best looking sites of it's kind that I have come across.
As a male escort for women I know that many women enjoy erotic imagery. Often though it can be hard to find good quality (sex-positive) erotica, or embarrassing to buy, so many women miss out on the fun of exploring this side of their sexuality. If you are considering booking a date with me and would like to include some erotic imagery, or movies in our date, then let me know and I can arrange it for us.
---
I notice today that Alternet has an article on this issue today:
http://www.alternet.org/sex/147498/how_to_make_porn_for_women/
It is an interview with Erika Lust, a rising star in the production of porn for women.
Ms Naughty made a blog post recently about Erika as well, and included a video:
http://www.msnaughty.com/blog/2010/06/29/erika-lust-interview/
John.