This article is aimed at couples who may be wondering if dating a straight male escort is the best option for a threesome. If you have already made up your mind and are wondering what comes next, then try this article instead:
---
A threesome can be a lot of fun if you can get the right partner to join you.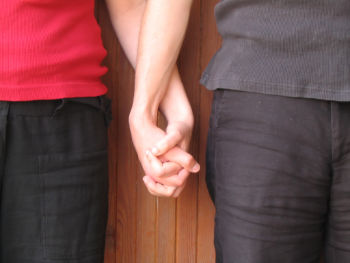 Rather than going to dating sites (and taking the risk of a bad experience) some couples instead turn to a professional (like myself) to join them. There are a number of real advantages to this approach:
You get what you ask for. Inviting a stranger into your sex life is always a risk. But inviting someone who you both know will respect your limits and understand your needs gives you both confidence. No need for insecurity, jealousy, or fear of this person coming between the two of you
It's safer. Meeting a guy from a dating site and you can be pretty sure that his motivation is to have sex and indulge his own desires. Sadly this means that he could be less than forthcoming about his sexual health and less careful with protection like condoms. For me as a professional, these things are of paramount importance because it's my health at stake too. I am there for the pleasure and enjoyment of the couple, not my own selfish reasons
I am definitely straight. This is possibly one of the biggest turn-offs for a guy when considering a threesome with his wife and another man: what if he wants to touch me?! Meet someone online and you won't know if he is straight or bi. Employ an escort like me and you can be certain
Indulge your fantasies. Employ me and you can let your imagination run wild. Ask for what you want, tell me what you don't want. Meet a guy from a dating site and you have to stop and consider what he wants at every turn
It's an easy first step. A couple contacted me some time ago to indulge their fantasy for a threesome. They could have found a guy on-line very easily, but for their first time, they wanted someone they knew they could trust to respect their limits, even if those limits changed while we were together. If it's your first time, then you really don't know how you are going to feel, so it's important to know that you can just stay "stop" (or "don't stop!") without having to worry about upsetting your new male friend
There are clearly benefits to employing me to make up the third party of your threesome, but it's worth mentioning the potential problems too:
Men: please don't hire me as a "surprise" for your wife, or girlfriend. Very few women want a surprise like that and honestly, I don't want to be put in that position. It is much better that everyone knows upfront what it expected. To that end, if you want to make a booking, then I need to speak to both of you
Men: if you are bi, please don't hire me. I am straight. Heterosexual. And not into guys. I have no problem being part of a threesome and incidental contact, but that's it. My focus is going to be working with you to help give your lady a mind blowing experience, not working on you
You will both need to be really clear about what the limits are. If you only want me to give a massage and be "eye candy", that's fine. If you want me to help bring the lady to orgasm that's great, but we want to be clear if there are any hard limits and "no go" areas before we meet
Ultimately hiring a male escort to participate in your threesome or fantasy is all about fun. So, to that end I am always happy to talk and plan out a date that suites you both.
John …