Surprisingly, I had never heard the expression The Female "Happy Ending" massage until yesterday when I came across that linked article on the subject in Google. Especially since it is something that I give to women semi regularly.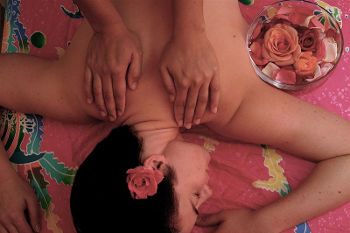 The "happy ending" means having an orgasm as a result of the attentions of the massage therapist. Google has many sites that cover the topic.
Still, it's an interesting issue, not so much in Australia, where it's (mostly) legal to provide these services, but definitely in the US where is it mostly illegal to provide any sexual services.
Sadly, in the US, there seem to be many women who are looking for a happy ending, but no legal, legitimate way for them to get it. Not surprisingly the result is that horny women end up propositioning their massage therapists (either subtly, or directly). The massage therapists are then put in the position of risking their jobs, or upsetting (and possibly loosing) a customer. Suddenly the whole "pool boy" phenomenon starts to make sense …
Browsing the websites of a few massage therapists and reading the comments demonstrated how common the situation is, and how much strain it puts on the therapists. Many find the request demeaning, as they feel it makes them with sex workers (which made me laugh, but I understand why; I chose what I do and I don't want to be a professional masseur, so the opposite can be true as well).
Here's a professional massage therapists view of the issue which I think covers the potential downsides of the situation.
Anyway, the situation is bad for everyone (possibly even the pool boys). Bad for the women looking for some pleasure and release, bad for the massage therapists, and bad for the massage industry. It makes criminals out innocent people who are trapped by circumstance and are fighting their natural instincts.
I am, for once, mostly pleased with the laws of Australia and New South Wales in particular. It seems that while outwardly our community still frowns on sex work as an industry, we (and importantly our law makers) are prepared to face up to the fact that we like sex, accept that some people need, or want to pay for it, and just let people get on with their lives.
So, here's to more happy endings, and the sincere hope that one day the US will legalise what we all spend lots of time doing anyway.
And if you feel like trying your own happy ending massage, just let me know …
John.