Sex is great, whether it's oral, missionary position, or something from the "advanced" pages of the Kama Sutra. But there is a way to make it better. That's being physically strong and flexible.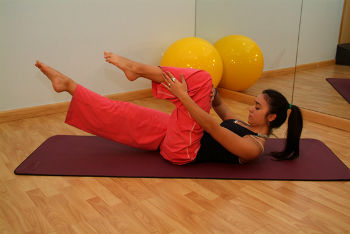 Some years ago I discovered Pilates. A system of physical fitness created by Joseph Pilates in the early 1900. It can be likened perhaps to yoga, but without the spiritual aspects. The movements and positions in basic Pilates are all achievable for anyone. As you improve you can try the more difficult positions if you feel like it, but it's not necessary to do so to get the benefits.
Being tall I have always had to look after my back. During a visit to my physiotherapist one day she suggested that I try Pilates as a means of improving my core strength (that's stomach and lower back) and my flexibility. A good strong core means less back trouble, and as an added bonus I discovered that it make sex easier and so, more fun.
If you love giving oral sex like I do, then you will know that it can be physically demanding to hold the right position to be able to give your lover maximum pleasure and bring them to orgasm. It's a subtle mix of strength and endurance, with some flexibility thrown in. If your not in great shape physically, then after a while you may lose your concentration, have to change position, or worst of all: have to take a break. All of these things make sex less enjoyable for both of you.
But a strong, flexible body makes all the difference for both men and women. The better your physical condition, the more you can do, and the longer you can do it (if appropriate!). While researching this article I discovered that I am not alone in my love for Pilates and its benefits to one's sex life. It's well worth a read.
http://www.everything-about-pilates.com/how-to-have-better-sex.html
So I took up Pilates and have never looked back. I see its benefits in my day to day life all the time. Whether it's lifting and carrying rafters while building my hideaway and not having to worry about my back, or going down on a lover and being able to kneel comfortably for as long as she wants.
Pilates is easy to learn. I bought the book: The "Pilates Body by Brooke Siler". It's easy to follow, caters to beginners and advanced practitioners alike and can be found on Amazon:
http://www.amazon.com/Pilates-Body-Strengthening-Lengthening-Body-Without/dp/076790396X
I highly recommend Pilates as a great way to improve your body, your sexuality and your life.
John.
The image in this article was found at Wikimedia Commons here: http://commons.wikimedia.org/wiki/File:Pilates.jpg