One of my favourite things to do is give a woman a sensual, erotic massage. And there's possibly the main point. Massage isn't a chore for me. It's a way to explore a woman's body, find out which areas are sensitive and to connect with her. It is a great way to develop trust and to build arousal.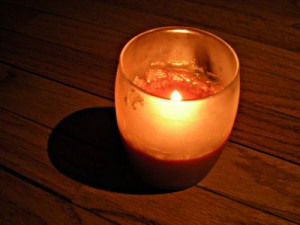 A really good deep tissue massage is an amazing experience, it releases stress and leaves you flowing off the table like water. But it's not really the right approach for a sensual encounter. What you really want is sensual massage, which is something that I put a lot of effort into with the women I meet.
Perhaps the best way to describe a sensual massage is to think of it as long slow foreplay with a lover, only it's (usually!) one sided. I find that giving a massage like this is an almost meditative experience for me as I focus on her body and making it feel good. So, while the massage is all about the person on the table, it can almost be a form of worship for the person giving it.
The starting point for me is to use a massage table. They are not expensive these days and they really allow the person being massaged to relax even more. It also makes it easier for the masseur to move around their lover as they work.
Once you have a table there are two things that you need to do: make sure that the room is warm and put down a towel. Nothing breaks the mood like lying down naked on a cold table! A towel spread over your table will make all the difference. It also feels better when you roll your lover over to work on their front. An oily back on a vinyl table doesn't feel so great.
Next comes mood. Turn down, or turn off the bright lights. Try using half a dozen candles instead. They give a fantastic sensual atmosphere that electric lights just can't match.
I won't go into massage oil, suffice to say that they are sexy and there are more oils and scents available than you can imagine. Spend some time finding a scent that you like. You can give a massage without oil, but it's just not the same.
So, now you have your lover on your massage table, the lights are low, the oil is ready, what comes next?
Warm some oil. A clever masseur can use cold oil creatively to create enjoyable sensations, but to start with, it's best to put some oil in your hands and then rub them together to warm it up before you begin to massage.
The aim is to build your lover's arousal, slowly, slowly, starting with long, gentle strokes along their body that put them completely at ease, steering away from their more sensitive and intimate parts for now.
Work your hands over the outlines of their body, back, arms, hips (not their bottom) and their legs.
If your lover is shy and wants a towel over them, then that is fine. Make it part of your game. Fold half of the towel up, or down, or left, or right to let you work on each part of their body in turn. Once they are warmed up and relaxed and enjoying what you are doing, then they may be happy to do away with it altogether.
Now you can start to be more adventurous with your hands, begin to stroke closer to your lover's sensitive and intimate parts. Don't rush in and grab their bottom, instead allow your hands to drift higher when you stroke a thigh, or hip, trail a thumb, or little finger lightly along their bottom, or beside a breast. Slowly work you way inward using soft strokes so that your lover can feel you coming, building anticipation and excitement.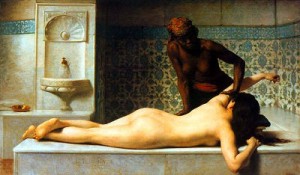 Use oil as necessary, but not too much. You don't want an oil slick, just low friction. Try soft strokes with your full hand, or just your finger tips, try a firmer stroke with the heel of your hand (but not too hard!).
Most of all, take your time and try to read the way your lover's body responds. Are they relaxing? Are they sighing? Do they push back a little bit when your hands pass over their bottom? Are they allowing their legs to relax and role beneath your hands? Look for the little signs that say they are ready for more intimate touches …
Sensation comes in all sorts of forms: hot, cold, soft, hard, sharp, rough, smooth. Employ your breath to create new stimulations, pass a hot hand over a sensitive spot, then follow close behind with a cooling breath of air blown over their skin. If you have long hair, then employ it to create other sensations. A little bit of imagination can go a long way here to heighten arousal.
By the time you have your lover squirming on the table you know that they are well and truly ready to move to the bed.
Massage is a fabulous form of seduction. If you take your time and slowly work your way up to intimate sexual touches then you will both enjoy the experience as much as possible and it will make for great sex and orgasms too.
John.