Touch has to be one of the most powerful connections that you can make with another person, from a hesitant stroke of fingers, to the brush of lips, the press of bodies together, to the slap of a hand on a bottom. Each is unique and special to the occasion and can blow your mind with pleasure, or bring you to tears from tenderness.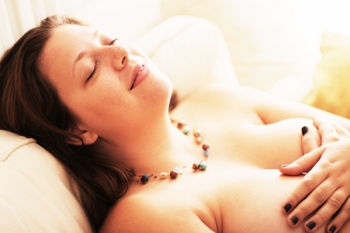 Touch is my stock in trade, my delight, and my addiction.
For me, touching a woman for the first time is always amazing. That little frisson of tension and excitement when you brush fingers as you walk along a street, then slip your hand into theirs, gentle squeezes sending secret messages from one to the other. Or that first moment when I have warmed massage oil in my hands and take that first long, slow stroke along her back. Or lean down and place a gentle kiss on her neck, or trace the inside of a thigh …
There are so many places and ways to use touch that it can never become boring, even when it is quite familiar and comfortable. The human body is like an instrument, waiting to be played upon, to the delight of the one who touches, and the one who is touched.
Rituals of touch are everywhere in erotic culture, from the Kama Sutra, to Tantric Sex. If you can slow down enough to make touch the cornerstone of your communication with your partner then you can experience things that will move you to tears, make you feel loved and adored, and bring you to orgasm (possibly all at once).
Touch lets you build trust with your partner, show each other that you care, and give unimaginable pleasure.
Touch – from the most innocent and utilitarian, to the most erotic and outrageous – is a central part of a date with me. If you are missing the touch of another person, or a lover in your life, then let me know. It would be my pleasure to give you that most human connection.
John.