I had the pleasure this weekend of visiting The Boathouse on Blackwattle Bay for dinner.
The ideal way to get to The Boathouse is by water taxi.  You approach from under Anzac Bridge and the taxi drops you a short distance along the waterfront from the restaurant.
It's a great location looking out over the water back to the city, especially on a warm evening like last night.
As you might expect The Boathouse specialises in seafood.  They have a great menu and I have to say that the snapper pie is fabulous.  No, I really mean it.  It is absolutely fabulous. They also do very good chips!
Sadly I don't appreciate oysters, but if you do, then The Boathouse will deliver.  They have a special section on their menu just for the oysters (all natural of course) listing the oysters that they serve that come from a dozen or more locations or more.  The Boathouse is oyster lovers heaven.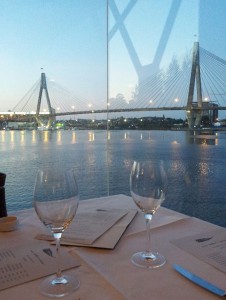 This was the view from the corner table at The Boathouse looks back over the bay to Anzac Bridge. It really is a spectacular place.
So, there you have it.  If you are looking for somewhere special for lunch or dinner, then The Boathouse on Blackwattle Bay is a great choice.
John.