Have you ever been to Fiji?  Until a couple of weeks ago, I had not.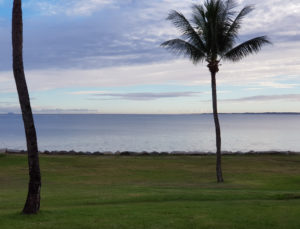 I visited Vanuatu way back in 2005, which was a very interesting experience (and one that I would like to repeat one day), but I had never made it to Fiji.
As regular readers may know, travel with my clients has become a regular thing and I now take up to four bookings each year for longer dates to travel with clients who would like a companion to share their holiday with.
It is an extreme privilege for me to be invited to do this and I do my best to both make the trip itself memorable, and to document it photographically so that my client has a set of photographs and a photobook to relive the trip for year to come.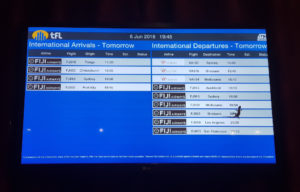 This trip to Fiji was no exception and I would like to share a few of the photos that I was able to take.  Tropical paradise is not overstating Fiji's charm and I highly recommend it to anyone who would like to escape the winter and relax for a week with white sand and warm seas.
In preparation for this trip I attended a scuba diving course and gained my PADI open water diving certification.  I now have the basic scuba diving qualification that allows me to dive to eighteen meters.  This is all you need to be able to take advantage of much of the fabulous scuba diving that Fiji has to offer.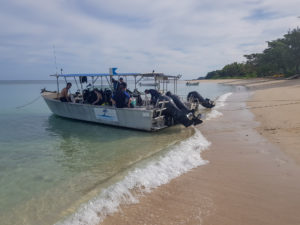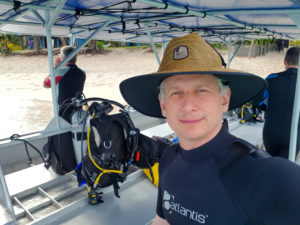 I had expected to have lots of photographs from the eight dives that I went on during this trip, however my plans were thwarted when the batteries for my dive camera being lost while clearing security scanning at Sydney Airport.  It was a huge disappointment, however it did not detract from the experience of diving itself.
I had the most amazing experiences, including watching eagle rays drift out of the gloom and glide past my group, then fade back into the depths, having a sea turtle heave itself up and circle around me – curious, before heading off to another part of the reef.
And then there were the sharks.  At a place called The Cathedral, where deep waters plunge away from rock and coral pillars, groups of two and three white tipped reef sharks – fine and streamlined – cruised in to look at us and circled around before heading away again into the dark.  And overhead, unexpected, and seen only as a heavy silhouette – a bull shark, a powerful predator easily more than two meters long.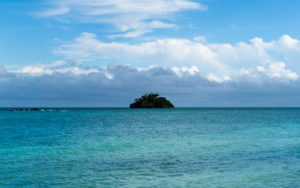 It is hard to describe how being in the world of these creatures makes you feel – besides small.  The beauty of hard and soft corals and myriad life that they support, the schools of fish that flash silver as they turn in perfect unison when startled, even the tiny colourful fish that hover over corals and retreat as a family between the branches as you approach.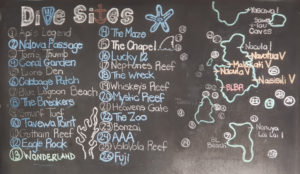 We are clumsy down there, able to exist only through our machines, and even then, only for such short times before we have to leave again and go back to the waves and the sky above.
But you don't come back the same.  You can't.  When I look at the water now, I am transported back to those moments of rolling back off the side of the dive boat, mask held in place with a finger tip, taking those first strange, cool rushing breaths of air from the regulator – and then the bubbles clear and your eye follows the shafts of light down to a wonderland garden below on the sea floor.  And all you can think of is getting down there and seeing what mother nature will show you this time – making every breath of air in the tank count.
Little wonder that diving is so addictive.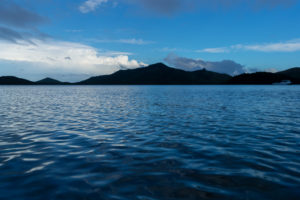 And then it's over, all too soon and you are slowly heading back to the surface, stopping to decompress, caught half way between one world and another.  A moment to reflect on that place and its inherent fragility.
We drop anchors that break coral, we cast lines that snag and tangle, we set nets that take fish and other creatures wholesale.  And while we stay on the surface we have no idea what is down there and what we do to this place of unfathomable complexity and beauty.
The chance to dive is a chance to become a larger person.  A chance to know a bigger world.  It is a chance that I am extremely grateful to have been given.  And one that I fully intend to continue to explore.
Back above the waves, Fiji is no less beautiful.  Beaches of white sand unroll around green atolls, and the sun, filtered through a thicker atmosphere than I am used to in New South Wales and Victoria needs less sunscreen to fend it off.

Perhaps one of the best parts though of Fiji is her people.  Friendly, open, and lovely.  They take a never ending tide of visitors into their land and make you feel a part of their family, sharing freely despite lives that are nowhere near as wealthy as ours.  It's a trait that stands out starkly in this age and makes Fiji such a lovely surprise to visit.
Another surprise to me was just how many American tourists I met in Fiji.  For me it was a four and a half hour flight from Sydney to Nandi Airport.  For many of them it takes eighteen hours or more to get to Fiji, yet they come here – many of them year after year, for something that they simply can't get in the Caribbean, or other parts closer to home.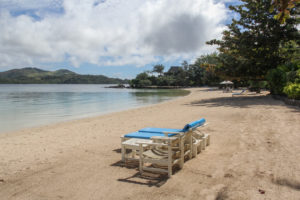 And while American tourists often have a dubious reputation (as do Australian tourists it must be said), I was delighted to meet many Americans who represented the very best parts of their culture and were fun people to spend time with.
All in all, I can highly recommend Fiji to anyone who is thinking of going there.  It is a wonderful place, especially if you are looking for some respite from the "real" world.
John.