I'm often asked to travel for my work, which is great. It's an opportunity to take photos and explore – even when it's somewhere like Canberra that I have been many times.
So here is a short story in tweets and photos from a road trip to Canberra!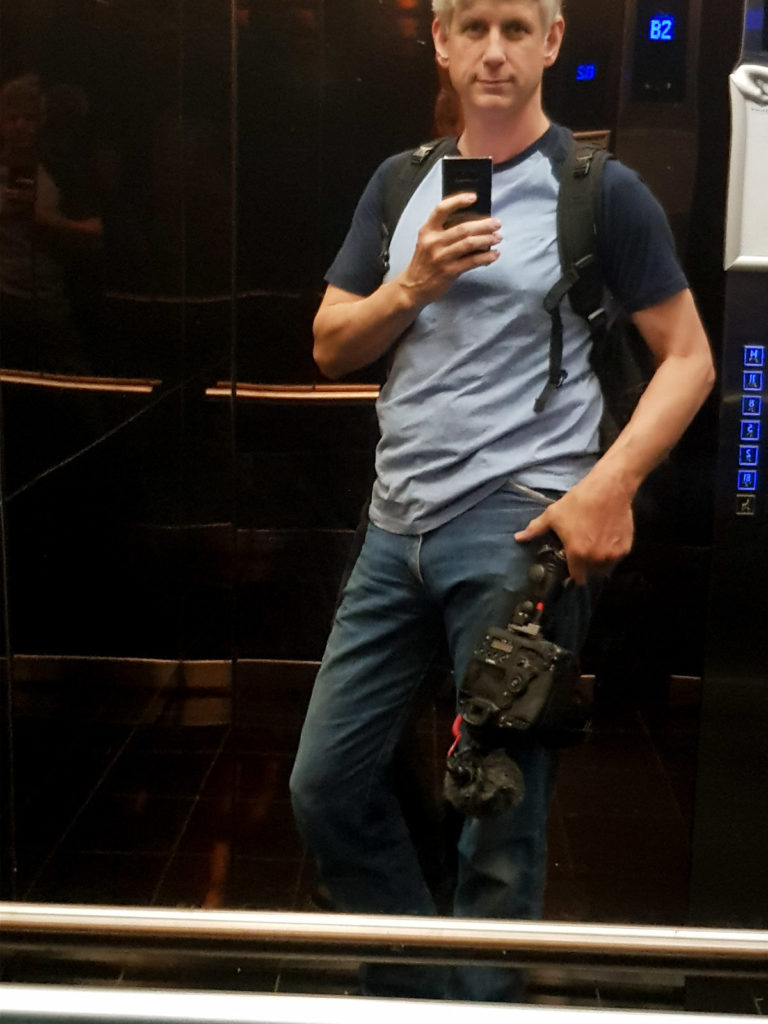 No trip is complete without a camera (or three!).  This was only an overnight trip though, so I limited myself to my big camera, two lenses, and my phone. More than enough surely!  I managed to prove myself wrong, but it still worked out fine.
Leaving Sydney was mercifully easy, with only light-ish traffic on the M5.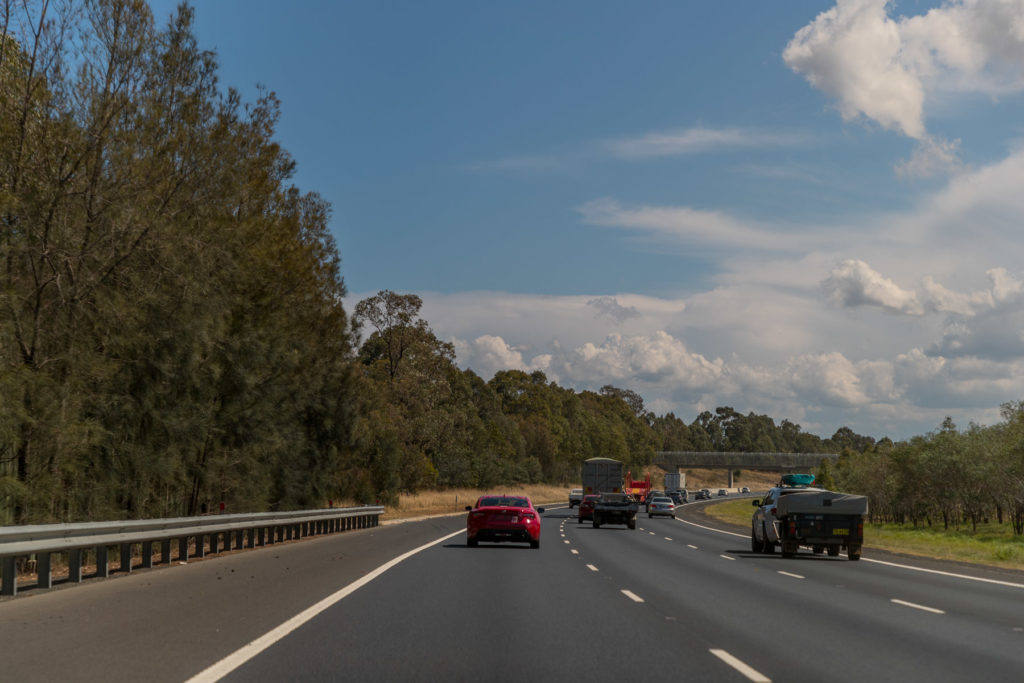 The clouds in the distance were a harbinger of things to come…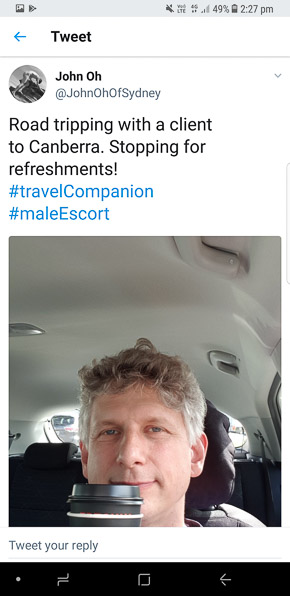 In the spirit of good concentration and staying safe, we stopped regularly to "Rest, Revive, Survive".
Tea is my beverage of choice – well, just about everywhere, and it's a good choice when travelling as it helps me avoid the empty calories of soft drink that beckon from rest stop service station fridges…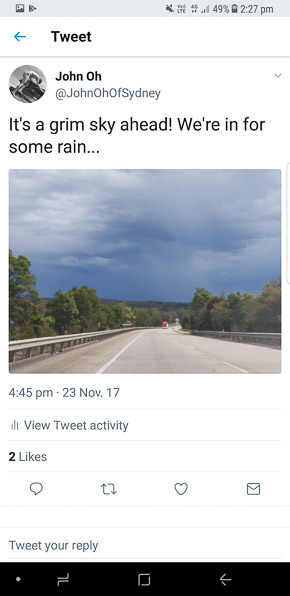 The further we drove, the darker the horizon became!  In the past (including once on a motorbike) I have been caught in torrential downpours south of Sydney that were so heavy that all of the traffic had to pull over to the side of the road.
I was really hoping this wasn't going to be one of those storms.
And then it hit.  Really serious rain!  But thankfully not serious enough to make us have to pull over – although it did have it's moments.
Much to our relief, the rain eased (a little anyway) when we got to Goulburn, so I was able to get a quick photo of The Big Merino!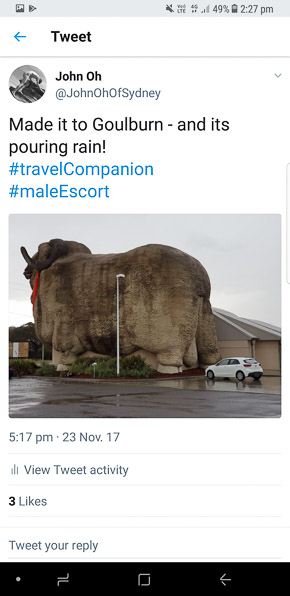 If you're not familiar with Australian regional highway culture, then this is the pinnacle of that culture: the BIG [insert regional speciality].
Examples include:
The Big Banana (Coffs Harbour)
The Big Potato (Robertson, NSW)
The Big Playable Guitar (Narrandera – apparently it's the largest playable guitar in the world – who knew?)
And of course in a wool growing region like Goulburn – The Big Merino (sheep). There are many, many more "big" things dotted around Australia.
Random trivia: The Big Merino was moved from it's original location, about 100m across the road to the new service centre in Goulburn some years ago to make way for a Bunnings hardware store.  The jury is still out as to whether or not this improved Goulburn's attractiveness as a tourist destination.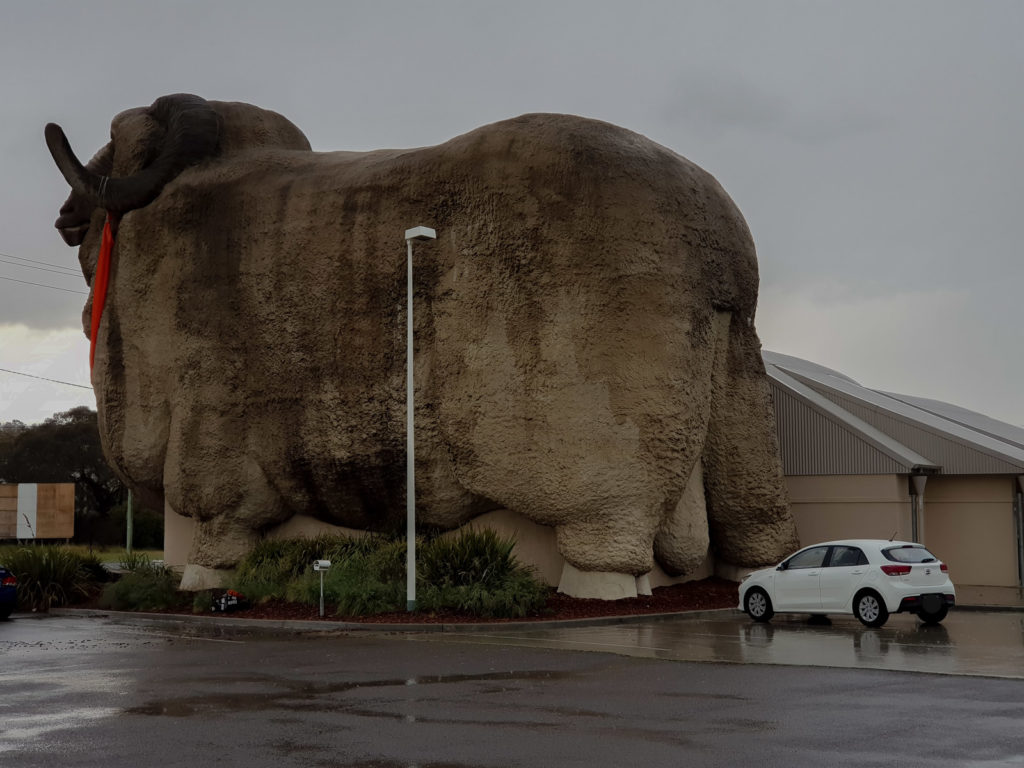 Rambo (as he is locally known according to Wikipedia) was sporting a very festive red thing around his neck.  Good to see Goulburn getting into the Christmas spirit.
We set off again and continued through patchy rain for Canberra and took a moment to stop at Lake George.  Actually two moment – as there are two quite good rest stops to view the lake from.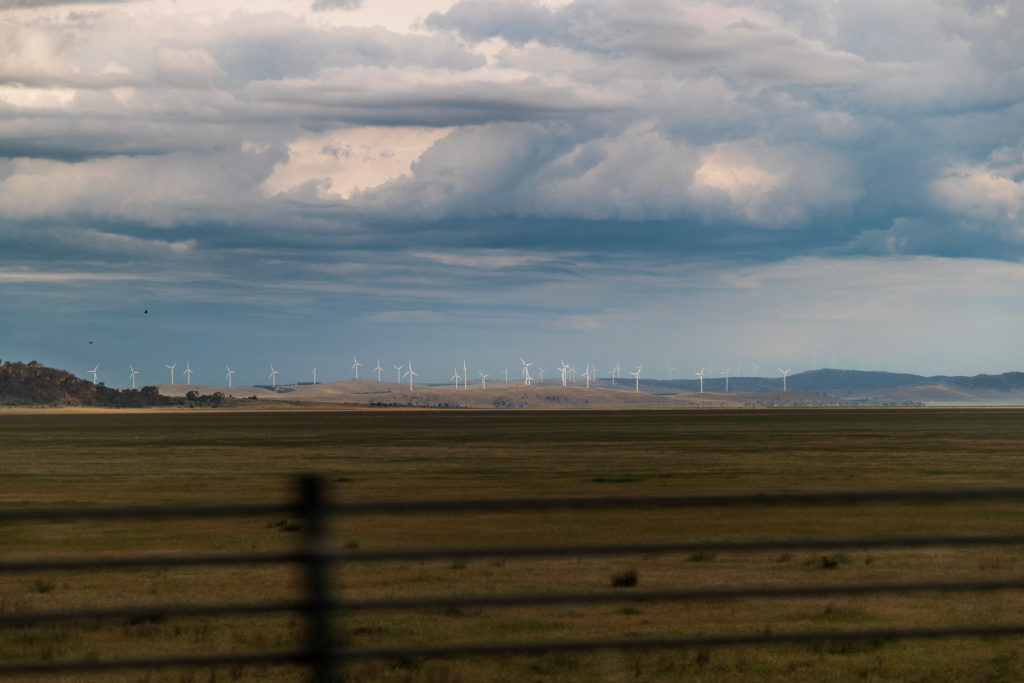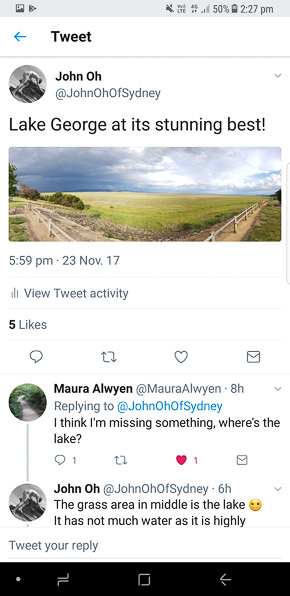 Now my tweet about the lake was somewhat confusing for some people.  It's called Lake George – but where's the water?  The answer is that Lake George is highly seasonal (and sometimes doesn't fill up very much at all for years).
So most of the time Lake George is a flat plain of waving grass that hosts various birds and in the back ground a low line of hills – topped, controversially in recent years with a forest of wind turbines.
It was quite the view with the storm clouds coming over as you can see below!  Click on the image to see the full panorama

If you love dramatic skies, then these photos are for you.  It really was a beautiful scene and I was just a little disappointed that I hadn't bought my equipment to shoot time-lapses!
We waved Lake George goodbye and made the final run into Canberra before the sun set.
Now I'm a big fan of public transport and I much prefer light rail to busses.  But it was disappointing that Canberra cut down all of the beautiful eucalypts that lined the middle of middle of Northbourn Ave to build theirs.
I suppose that they couldn't really do much else, but it is a shame to see all of those trees gone now to be replaced with concrete and rails.  I am hoping that they will replant with something once the rails are done, but who knows?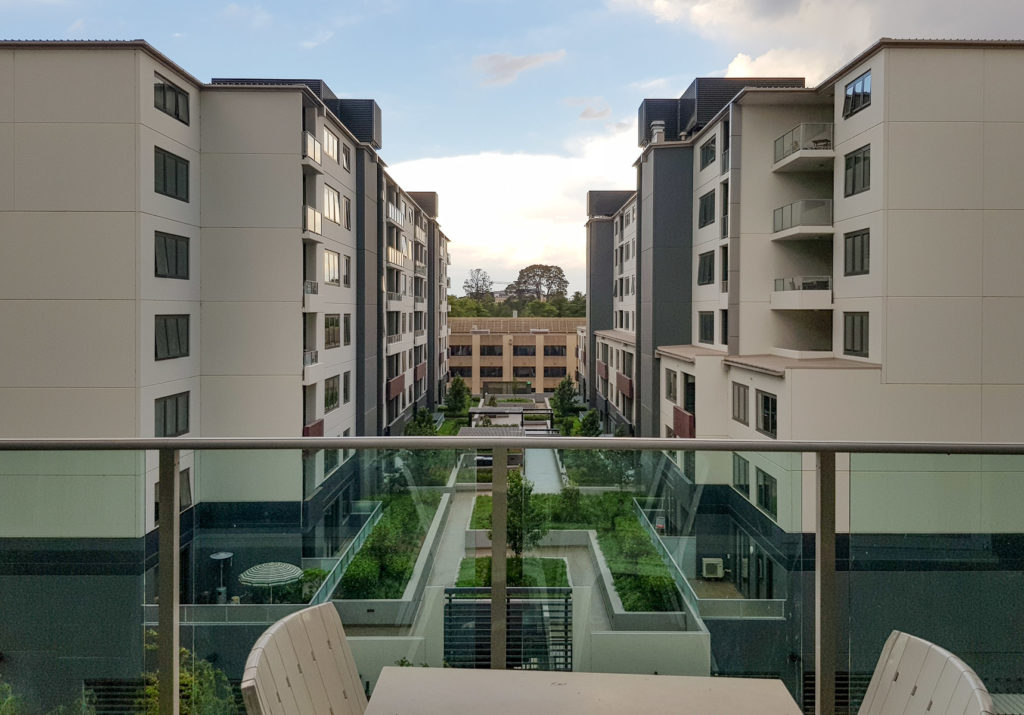 Hotel rooms in Canberra rarely have a beautiful outlook, but this one was rather pleasing.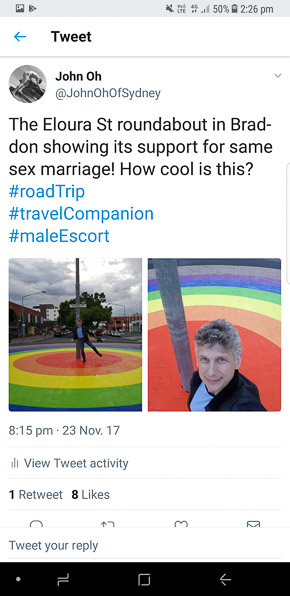 While walking out to find some dinner, we discovered that one of the roundabouts in Braddon had been painted up in LGBTQI colours in support of the same sex marriage non-compulsory, non-binding, (totally-not-a-plebiscite) postal vote.
It's nice to see such public, unambiguous support of marriage equality.
And it has become quite the tourist draw too – I wasn't the only one taking selfies on it!
A burger and chips with a beer from Grease Monkeys Cafe seemed like perfect road trip fair!  Not the finest dining in Canberra to be sure, but it was quick and easy and cheerful food food after a long drive.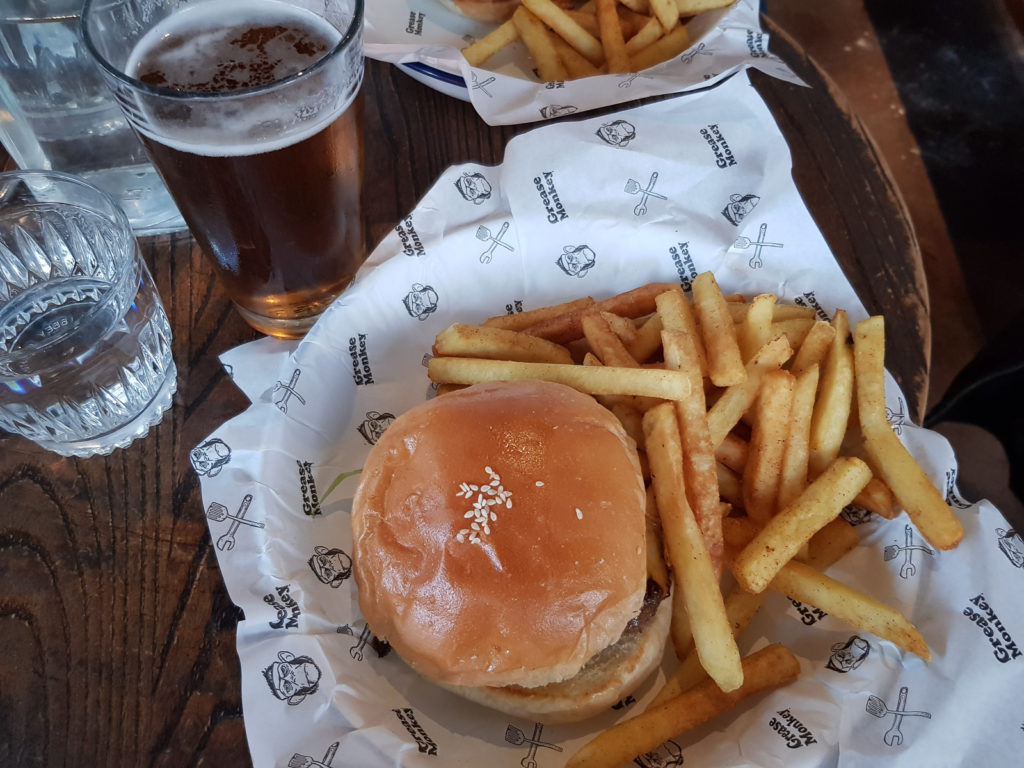 Jump forward to the next day and we headed back for Sydney.  It was a far better day to be driving!  No rain and barely a cloud in sight.
Leaving Canberra though, there is an avenue of bottle brushes that were in absolutely spectacular bloom!  This isn't the best photo ever taken, but you can clearly see the beautiful red bottle brush flowers covering them.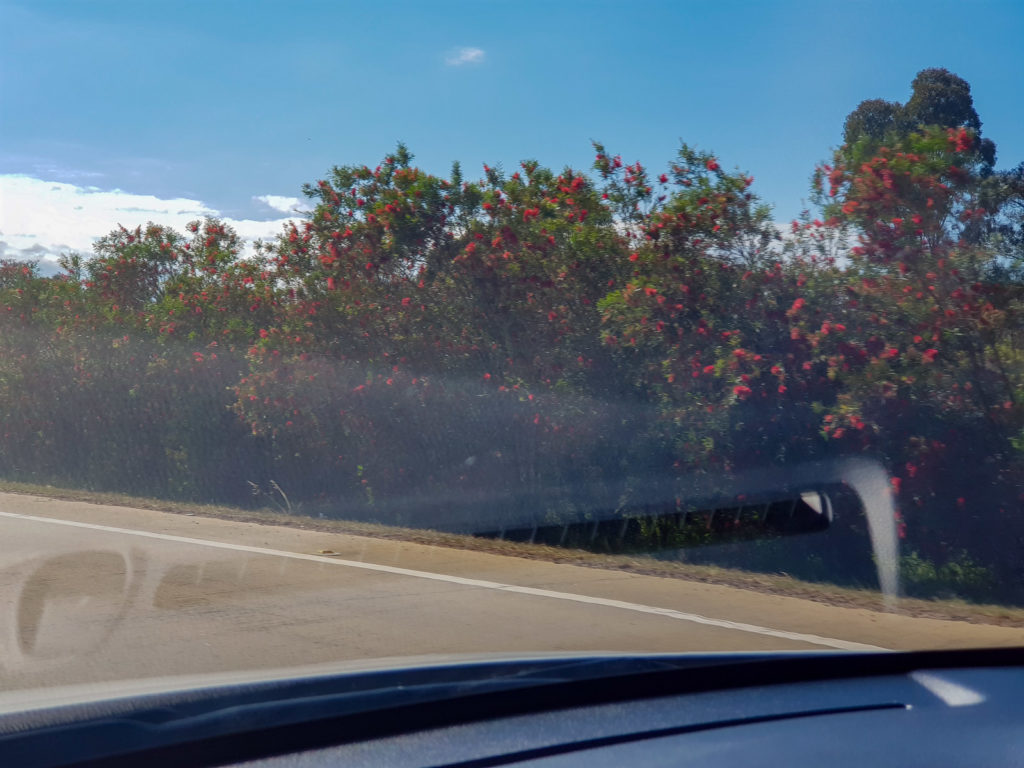 The drive home was uneventful – but did include me sleeping for an hour!  Lets just say that I am not a nervous passenger.
As always, there were many, many trucks on the Hume Highway (and a fair seasoning of highway patrol police too).  It never ceases to amaze me the shear volume of "stuff" that we move around the countryside on trucks.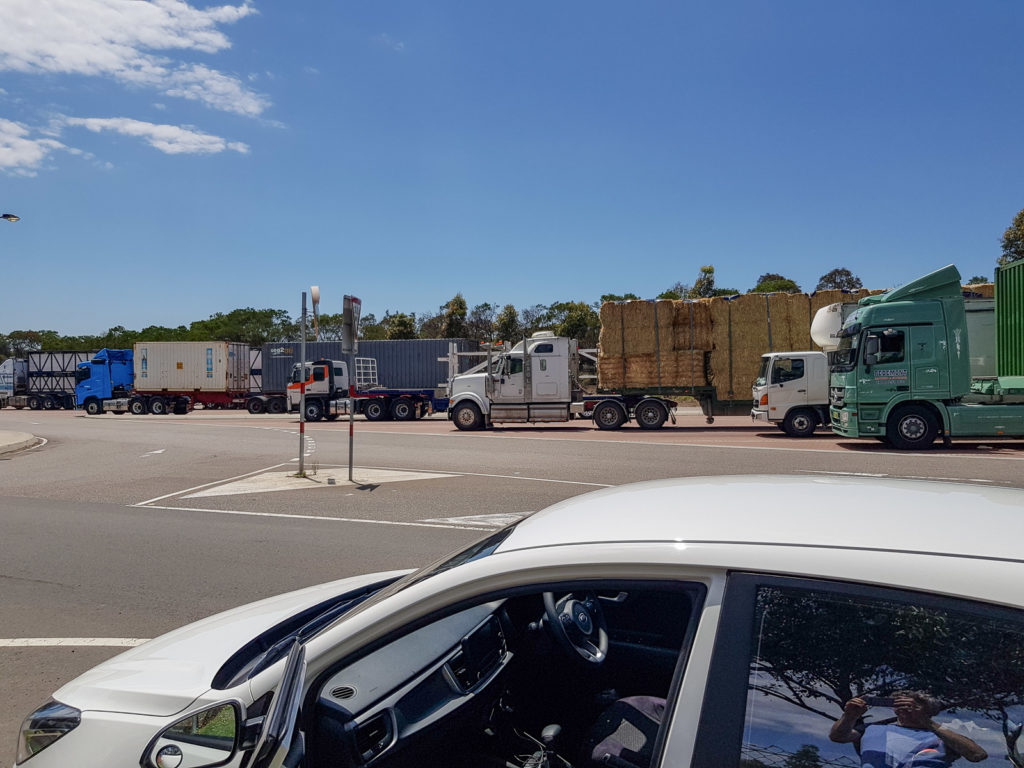 Despite roadworks and the usual disaster that is the M5 motorway, we made good time back into Sydney and I was soon home…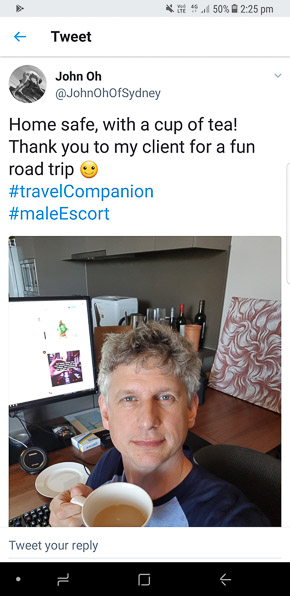 This was only a quick trip, but I am available to travel pretty much anywhere you might like to go.  From a day or two locally, to a week or more in Australia or overseas.
John.