A former client sent me a link today to an article in the Canberra Times about a (UK) woman struggling with the lack of sex life and the sexuality of her autistic son (hi S – thank you!). You can see the article here:
http://www.canberratimes.com.au/lifestyle/life-and-relationships/sex-and-relationships/i-learned-through-my-sons-autism-diagnosis-when-it-comes-to-sex-we-all-have-special-needs-20170426-gvssam.html
I'm extremely sympathetic to the family. Autism is not something that I would wish on any one, and I am sure that it presents a unique challenge when it comes to dating and relationships.
I was however disappointed by the language and tone of conservatism of the article (written by the young man's mother). It was a sharp reminder that prejudice against my industry – despite being variously decriminalised (as in NSW and NZ) or legal (as in many other parts of Australia and the UK, where the author lives), the average person's opinions seem to be stuck in the '50s.
"Kerb-crawling to pick up a prostitute was definitely not on my to-do list after "Buy hummus, sort sock drawer, do Pilates"
Come on – it's 2017, you do Pilates, and have raised an autistic child (and no doubt dealt with issues of discrimination and disability phobia for much of his life). Street sex work (not prostitution please – it's a pejorative term) is mostly a thing of the (certainly in Australia, although it does still happen in the UK) past in this country. The Internet and mobile phones have seen to that – and sex work is safer and easier because of it.
"Our female friends were furious that we could even consider condoning prostitution. I tried to rationalise it by saying that I thought of a lady of the night more as a "sex care provider who is presenting herself as a commodity allotment within a business doctrine". But it didn't convince them."
For everyone out there still stuck in a time warp, let me say it loud and clear: "sex work is work". The author actually has it right here. Yes, sex workers (and we aren't all women and we even work during the day) like me are people engaged in a business that isn't a criminal enterprise – and seriously you need to check your moral outrage.
The irrational discrimination against both sex worker's and the people who choose to see them is never more clear than when you are dealing with disability. There are people out there (male, female et al) who find it very, very hard, or impossible to have a safe, consensual sexual experience because of their disability. Yet these moral authorities of the community would deny the opportunity for disable people to ever experience something that these moral arbiters take for granted? Shame on them. I thought that we had evolved socially past that kind of behaviour.
Who are these faceless "female friends" – and why do they get to determine whether a 21 year old autistic man (or anyone else) gets to have sex and under what conditions?
"all my 50-something, divorced female friends are chewing holes in the furniture with sexual frustration"
Yet, I'm guessing that many of those same women would join in the condemnation described above. It's dysfunctional and it hurts all sorts of people – especially those with disabilities – for no good reason at all. We really, really need to grow up.
As to the author's dilemma, I am saddened that she, nor any of her friends with autistic children, ever thought to type the following into Google…
"sex for disabled persons UK"
If she had, she would have seen these links at the top of the search results…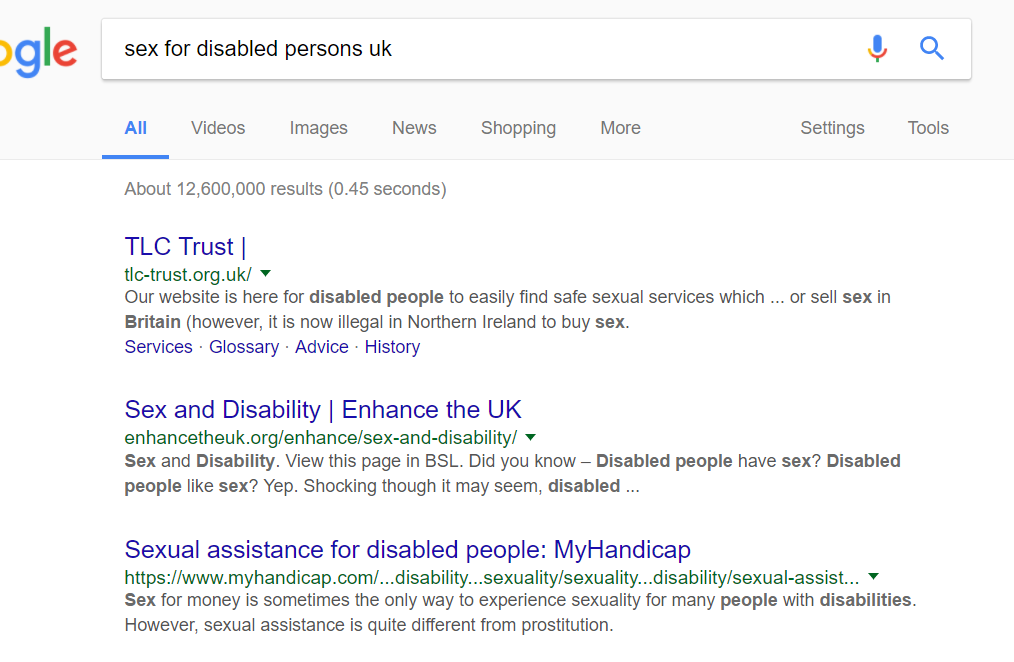 There are many, many people out there in the world working hard to give disabled people access to the sexual experiences that the rest of us take for granted. Organisations like Touching Base here in Australia do a fantastic job of giving people with disabilities access to safe, consensual sex.
Despite all of the (often valid) criticism of western culture, lets not forget that our various societies have done many, many good things. I have heard it said that you can measure the worth of a society by how it treats its most vulnerable members. I am proud to say that I live in a society that is beginning to tackle and resolve the issues of sex and disability.
There is a long way to go, but just being able to say that in Australia, New Zealand, and the UK among others, that a disabled person can choose to engage the services of a sex worker like myself – that's a huge victory for acceptance, respect, and compassion.
I wish Kathy Lette and her son well, and hope her book is a success, but I would also like to see her educate herself further if she is going to be a public figure in the discussion of sex work and disability. There is a lot riding on these discussions for a lot of very disadvantaged people.
John.