I have just flown back to Sydney, having been in Melbourne for only two days – it felt like a lot longer though thanks to interesting people, a vibrant city, and catching up with family and friends.
I tweeted a lot of the trip because I was excited to be back in Melbourne and feeling a connection with it.  So I thought I would share those tweets…
I flew out of Sydney eventually, but only after Jetstar cancelled my flight and moved me to a qantas flight instead.  More aggravation than I needed and it left me lucky that my Monday afternoon booking had cancelled!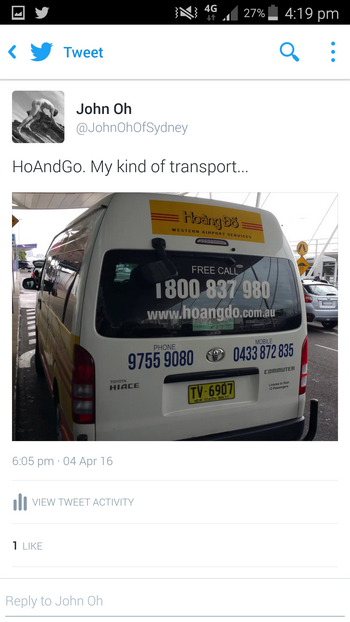 Hang around with sex workers for long enough and the sense of humor rubs off!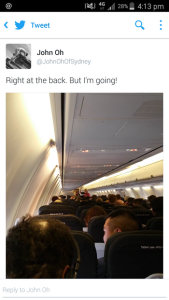 It turns out that I had forgotten just how much rougher the flight is at the back of an aircraft. So used to sitting over the wing. Still, it was a nice new comfy Qantas plane, I was on it, and it was going where I wanted it to!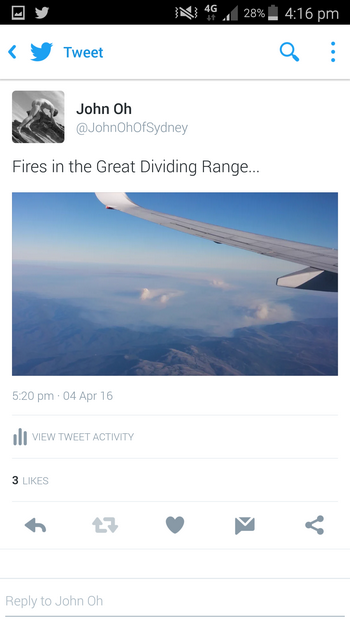 Having a window seat made for some spectacular views onto The Great Dividing Range.  I was very surprised to see many fires burning in the mountains.  It was unclear why.  Some seemed to be in plantation forests, perhaps the result of burning off waste wood and debris.  Either way, the smoke blanketed large areas.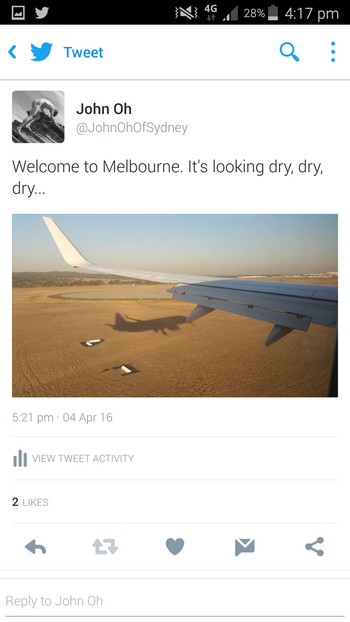 The most notable feature flying in to Melbourne was just how dry everything was.  New South Wales by comparison looked very green…
I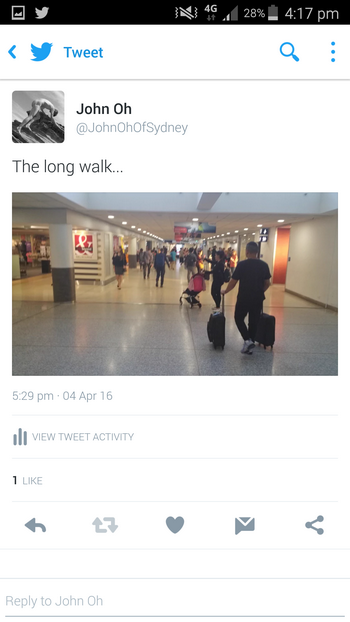 always find the walk to the terminal strange, especially when doing it alone.  Somewhat anti-climactic?  Still, it was good to be there, and only hand luggage, so no need to wait for baggage.
I could go straight out to get a taxi…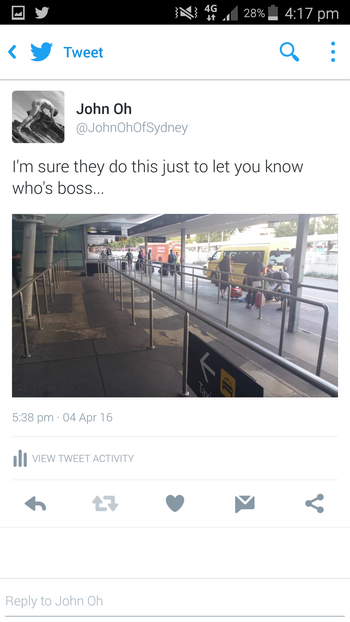 Only there wasn't anything "straight" about it.  Seriously Tullamarine Airport, do you have to make us walk up and back and up and back…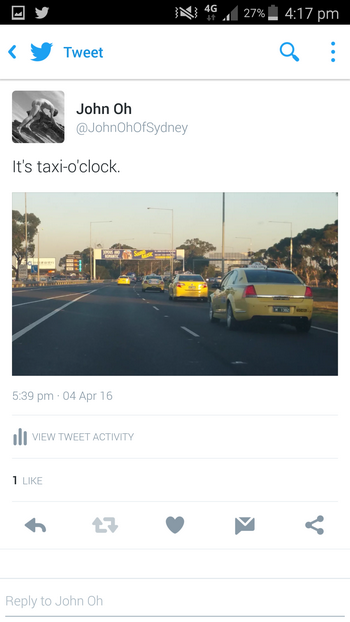 There's a certain time of day when it's just all taxis. This was it!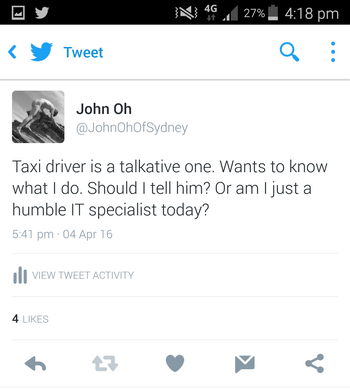 Taxi drivers can be a curious bunch, like to know all about you, where you come from, where you're going, what you do… woops.
He lent me his power cord for my phone and seemed like an ok guy, but you never know how people will react.  Usually it's amazement and curiosity at my job, but I really didn't feel like testing that theory out!  Just wanted to get where I was going.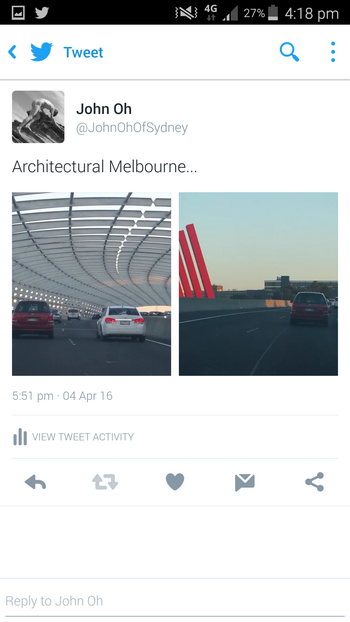 Melbourne has some quite spectacular motorway architecture.  About the only thing in Sydney that I can think of that is similar is the Light Horse Interchange on the M4, which really doesn't compare.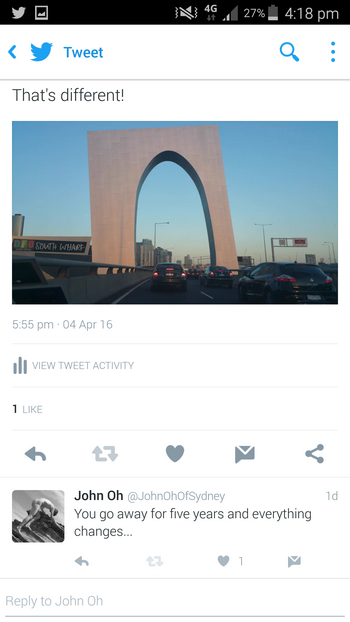 I particularly liked this sculptural piece, brainstorming on Twitter make up with The Leaning Tower of Oh…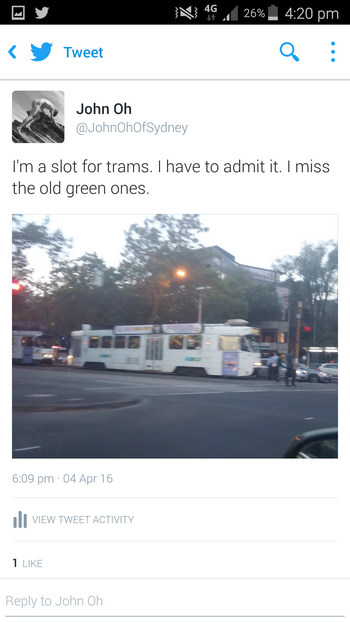 Foiled by auto-correct!  That should have said "slut".  Seriously though, there is something about the prevalence of trams in Melbourne's inner suburbs that I really like.  Trams in Sydney still seem so out of place and alien.  In Sydney, it's all about buses.  Roaring, horrible, sick-making buses.  Trams seem so civilised by comparison.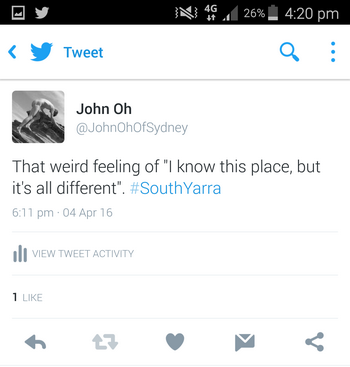 So much has changed in Melbourne since last lived there (in '97).  It really is a different city.  It seems perhaps more vibrant.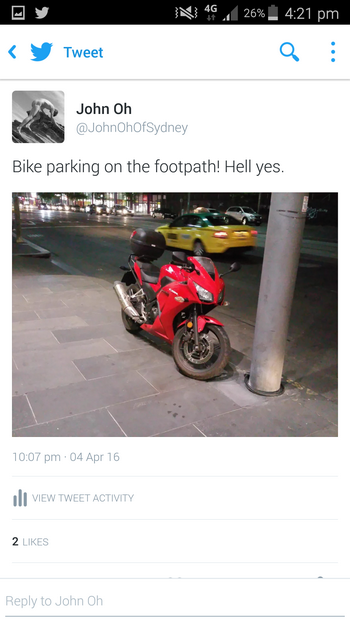 Always one of my favourite aspects of Melbourne: motorcycle parking on the footpath. You see so many great bikes this way.  They're like their own kind of street art.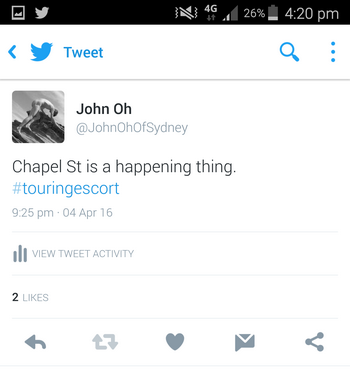 Chapel St is (well was) always a happening thing.  I have heard though that the other end closer to Prahran isn't as nice any more.  Sadly I didn't have time to investigate.  Perhaps next trip?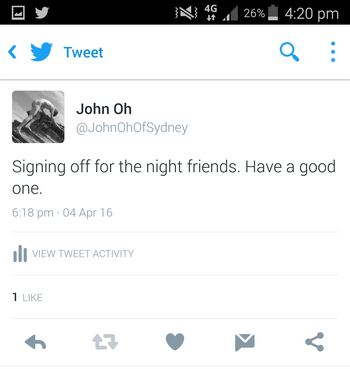 Well, that's it for the first part of my journey.  Made it to Melbourne and navigated to my destination.  More to follow!
John.