Well, the rain has gone away and I now have a nicer view of the landscape.  One of the things that view revealed was this billboard …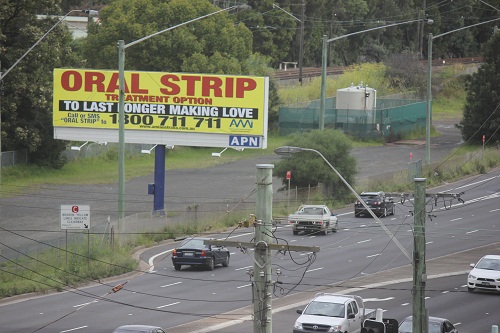 You see them around the place in Sydney regularly if you get around the cities major roads like I do.
They annoy me disproportionately.  Mostly I think because they represent one of the fundamental failings that I think we have as a society when it comes to our sexuality (and our health in general).
Premature ejaculation (which I assume is the "illness" that these people are selling a treatment for) is a physical response to a mental state bought on by incorrect conditioning of young men as they become sexually aware.  It's not a disease that you need to pop a pill for, or take an "oral strip", or us a "nasal delivery system" to paint over the symptom without treating the underlying problem.
As I have stated before, I am not a doctor, have not training as such.  But I am quite sure on this topic that for most men with issues of premature ejaculation that chemicals are not an appropriate response.  Why?  Because it is something that I have personally experienced and have personally overcome.  For most men all it takes is a few weeks, to a few months of practice following a simple technique described by Dr Sy Silverberg MD.  A Canadian doctor and sex therapist.  You can see his website and buy his book here:
http://sextherapy-prematureejaculation.com/
and you can also buy his book via Amazon:
http://www.amazon.com/Lasting-Longer-Treatment-Ejaculation-ebook/dp/B003OUXCHG
Just about everything in our society is now viewed in terms of money and having to buy solutions to our problems (and yes I see the irony of me being upset about that!).  There are always things that will need to be bought, like houses, and mobile phones, but the ability to have sex for as long as you and your partner want to doesn't need to one of them.
All it takes is some self discipline (to follow the technique), some assistance from a loving partner (to help you practice when the appropriate stage is reached) and you will be rid of premature ejaculation and all of the self doubt, guilt, and conflict that it can bring with it.
Ladies, if you have a partner with PE, then you can change his life for the better by encouraging and assisting him to work through this book's technique.
Men, if you have PE you can improve your enjoyment and satisfaction with sex and that of your partner by getting a copy of this book and making time to re-learn your responses to your partner.
My personal experience was that it took me about two weeks of practice (twice a day) to break my problem with reaching orgasm too quickly.  And the best thing is that you can do it with without spending a cent on drugs or doctors.
Yes you have to pay for the book, but that's a one time purchase, not a life time prescription.
John.