About half of everything sold at Sexpo is probably a vibrator of some kind.  I bought a couple to give away.  The first one is the Lucid Dream No. 14 by Doc Johnson.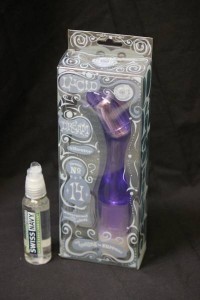 I was drawn to it for two reasons: the size and the shape.  Many women I know enjoy penetration and this vibrator, at 9.5 inches long is a good size for that.  It's shape, as you can see looks like it would work well for g-spot stimulation.  And the location of the vibrating bullet means that you would get plenty of powerful stimulation, whether you used it on your clit, or to target your g-spot inside.
The demo unit I played with proved that the vibration is quite strong (for a battery operated unit) and it was relatively quiet too.
The unit is phthalate free and interestingly it claims to be waterproof.  This open up a whole new area for fun in the shower, or bath …
The manufacturers product page can be found here:
http://www.docjohnson.com/index.php/vibrators/lucid-dream-no-14.html
So, I have one Lucid Dream No. 14 and a bottle of Swiss Navy natural lube to go with it to give away to the next person to book an overnight date.
John.