We tend to think of painful penetrative sex as being a problem for women who are having sex for the first time. And that is true for most women their first times, but it's not the whole story. There is something of an assumption that once a woman gets past that initial hurdle that – unless the guy has a huge dick – that it's all going to be plain sailing.
The reality is that for many women, used to partners with modest sized penises, having sex with a man who is only somewhat larger can be challenging and even quite painful. There's also women who suffer from the side effects of surgery and from physical and emotional trauma. All of these things can lead to painful sex or not being able to experience penetration at all.
The point is that whether a woman is new to sex, or has been having sex comfortably for years, she can still find accommodating a larger penis difficult.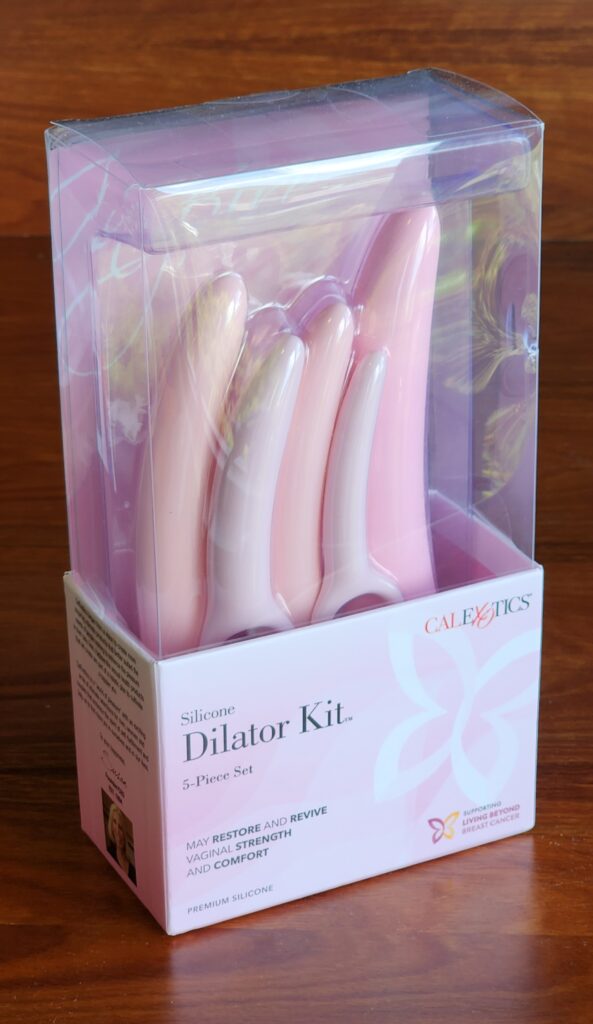 So what's the solution?
Well one solution is gentle stretching with dilators. Doctors and physiotherapists will often recommend the use of vaginal dilators to help stretch the muscles of the vagina and "teach" them how to relax. It's a lot like stretching any muscle of your body – it takes time and practice. No-one expects you to be able to touch your toes comfortably – or at all – without practice, if you can't touch your toes.
Having sex with a partner with a larger-larger-then-usual penis is much the same – only with added complexity and emotional challenges. Dilators, which usually come in a set of five or six in graduated sizes, are a useful tool to help women reach a point where they can have the sex that they want without pain.
I recently met a young woman who came to me to have sex for the first time. We weren't able to have sex in the end because she needed more slow stretching of her vagina than the time we had together allowed. She did make a lot of progress though during our booking, demonstrating that it was possible for her to experience penetration without pain. I recommended that she buy a set of dilators to practice with – I would normally have had a set on hand, but I hadn't replaced the last set that I had given to another client.
I have remedied that now and will in the future always have a set on hand.
Not long after that a regular client booked a threesome with another male sex worker and me. She has plenty of experience with sex, but not with anyone with a larger penis than me. She discovered that he -being a little larger than I am – was actually too big for her to comfortably have the sex she wanted with him. To that end I recommended that she try practicing with a dilator.
There was the small problem though that dilators are generally aimed at women with more extreme troubles like vaginismus that require starting with a very slim dilator and working up. So they tend to only go up to around 3.5cms in diameter which is probably as big as the average man's penis, but definitely isn't big enough for a woman wanting to graduate to a larger guy.
Her solution was to find a nice silicon dildo that was about 4.5cms diameter, which represented a modest increase in size over me and was closer in size to the other escort.
Now I'm not going to try to explain the best practice use for vaginal dilators as I'm not a doctor or physiotherapist and you should definitely talk to your doctor if you feel you need to use dilators for painful sex, but I will outline the basics that medical professionals publicly recommend:
Use personal lubricant! It will make things a lot easier – and remember, don't use silicon lube with silicon dilators – only water based lube
Once you can insert a particular sized dilator, leave it in for approximately 15 minutes each time you practice – this gives your body time to adjust and learn to relax
Only practice every second day – this allows your body to heal from any abrasion or other strain that you might experience as you increase the size of dilator you are using
Probably the most important thing though is to take your time and persist. It's not a process that can or should be hurried. Persist and you will reach your goal!
John